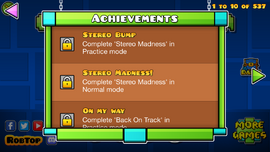 Achievements are a feature of Geometry Dash, Geometry Dash Lite, Geometry Dash Meltdown, Geometry Dash World and Geometry Dash SubZero. The list of achievements can be accessed from the main menu using the trophy button. By completing achievements, Icon Kit rewards can be unlocked. When this occurs, a sound will be heard and a brown banner notification will appear at the top of the screen for a few moments.
Trivia
The achievement unlock tone is used in several games by RobTop Games.
Prior to Update 1.9, the achievement So close required a crash to occur at exactly 99% through a level rather than at 95% or more. This was only possible on Electrodynamix due to the way that speed portals affect level pacing. Without the presence of faster speed portals, the latest point a crash can occur is at 98%.
The Supporter achievement was originally unlocked by rating Geometry Dash on the iOS App Store or Google Play Store. However, it was changed to simply selecting its corresponding lock in the Icon Kit as the original requirement violated Google Play's terms of service.
The lite version involves several differences surrounding achievements compared to the full version.

Some achievements have different rewards.
Exclusive achievments include Epic Musician!, Geometry Master!, Geometry Jumper! and Jump, you must, whose rewards are taken from other absent achievements.
Achievements notably absent but not due to unincluded content include Ultrakill!.
The achievements for performing 100, 500, 2,000, and 10,000 attempts are titled U can do it!, Trial and Error, Crash Tester and Stop it! respectively, while it all other versions they are are titled Trial and Error, Crash Tester, You Shall Not Pass! and Ouch... respectively.

Update 1.01 to Geometry Dash Meltdown saw 7 achievements removed, although their respective rewards were not withdrawn from those who had already unlocked them.
The achievements on Steam can be viewed here.
Achievement data
There are a total of 264 achievements and 2 additional achievements exclusive to the Steam version of the game. Geometry Dash Lite has 57 achievements, Geometry Dash Meltdown has 17 achievements (previously 24), Geometry Dash World has 168 achievements, and Geometry Dash SubZero has 12 achievements.
Community content is available under
CC-BY-SA
unless otherwise noted.