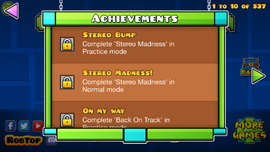 Achievements are a feature of Geometry Dash, Geometry Dash Lite, Geometry Dash Meltdown, Geometry Dash World and Geometry Dash SubZero. The list of achievements can be accessed from the main menu through the trophy button. By completing achievements, Icon Kit rewards can be unlocked. When this occurs, a sound will be heard and a brown banner notification will appear at the top of the screen for a few moments.
Achievement details
There are a total of 264 achievements and 2 additional achievements exclusive to the Steam version of the game. Geometry Dash Lite has 56 achievements (listed as 55), Geometry Dash Meltdown has 21 (Android) or 17 (iOS) achievements (previously 24), Geometry Dash World has 168 achievements, and Geometry Dash SubZero has 21 (Android) (listed as 20) or 12 (iOS) achievements.
Trivia
The Supporter achievement was originally unlocked by following a prompt to rate Geometry Dash on the iOS App Store or Google Play Store. It was later changed to only require selecting its corresponding lock in the Icon Kit.
Prior to Update 1.9, the achievement So close required a crash to occur at exactly 99% through a level rather than at 95% or more. This was only possible on Electrodynamix due to the way that speed portals affect level pacing. Without the presence of faster speed portals, the latest point a crash can occur is at 98%.
While listed as having 55 achievements, the lite version actually has 56 achievements. The Geometry Bird! achievement is unlisted, and its reward, Colour 39 [secondary], is marked with a grey padlock. Upon selecting it, the normal notification for limited achievements "Only unlockable in the full version of Geometry Dash!" is received. However, like in the full version for that particular achievement, instead of 'OK' being the dismissal prompt, 'Close' and 'Follow Now!' are present. Using the latter button will unlock the unlisted achievement and its reward. The achievement can also be unlocked by accessing the Free Stuff! section of the daily rewards and selecting the Twitter link.
While listed as having 20 achievements, Geometry Dash SubZero actually has 21 achievements. The Supporter achievement is unlisted, and its reward, Cube 13, is marked with a grey padlock. Upon selecting it, it responds as normal by initiating Scratch's dialogue and rewarding the icon once concluded.

On iOS, it appears to be glitched in that the icon is shown as being rewarded, but the achievement is not discreetly unlocked and its sound is not heard. Selecting the icon in the Icon Kit does not select it as the current icon and instead restarts Scratch's dialogue. While the icon is initially revealed, leaving the menu and returning will hide it again.

The achievement unlock tone is used in several games by RobTop Games.
The achievements on Steam can be viewed here.
Community content is available under
CC-BY-SA
unless otherwise noted.