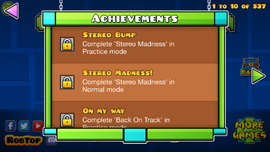 Achievements are a feature of Geometry Dash, Geometry Dash Lite, Geometry Dash Meltdown, Geometry Dash World and Geometry Dash SubZero. The list of achievements can be accessed from the main menu through the trophy button. By completing achievements, Icon Kit rewards can be unlocked. When this occurs, a sound will be heard and a brown banner notification will appear at the top of the screen for a few moments.
Achievement details
There are a total of 264 achievements and 2 additional achievements exclusive to the Steam version of the game. Geometry Dash Lite has 56 achievements (listed as 55), Geometry Dash Meltdown has 21 (Android) or 17 (iOS) achievements (previously 24), Geometry Dash World has 168 achievements, and Geometry Dash SubZero has 21 (Android) (listed as 20) or 12 (iOS) achievements.
Community content is available under
CC-BY-SA
unless otherwise noted.