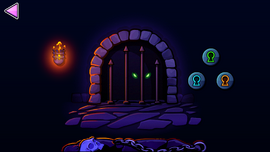 The Basement is a secret feature of Geometry Dash and (with limited function) Geometry Dash World, being introduced in Update 2.1. It is located through a door in the lower right corner of the Vault of Secrets, requiring that the secret level The Challenge be completed to access it.
Description
The Basement is a dark room containing a locked cell, an illuminating torch on the left and a skull and chain in the foreground. Initially, there is a chest in the lower right corner which contains a reward. After selecting the back button during the first visit, a pair of glowing green eyes will appear and a creature inside - unnamed but elsewhere referred to by the Keymaster as the Demon Guardian - will exchange dialogue before a series of locks appear to the right of the cell. Selecting each lock will provide instructions on how to acquire its respective key, triggering the associated location.
The blue key is rewarded for completing the Chaos Gauntlet, which now appears on the gauntlet menu.
The green key is found in the first large chest in the Treasure Room, which requires 50 chests to be opened. It is the only key available in Geometry Dash World.
The orange key is found in the chest in the Chamber of Time, which can now be discovered.
Selecting each lock after possessing its respective key will remove it. After all three locks have been removed, the bars will descend from the cell, freeing the Demon Guardian, revealed to be green with shoulders, large horns and a toothy smile. It exchanges dialogue before disappearing in a flash of light, leaving in its place a large chest with rewards, including a purple key which is used to unlock the Demon Gauntlet. Selecting the chest summons the Keymaster, who exchanges additional dialogue, before the chest can be opened. After doing so, no further actions can be taken within the Basement.
Trivia
Gallery
Community content is available under
CC-BY-SA
unless otherwise noted.