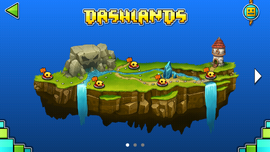 Dashlands is the first world of Geometry Dash World and features five levels of short to medium length which must be played in sequence. Its total rewards include:
450 mana orbs
13 stars
4 colours
1 cube
All Dashlands level music was produced by Dex Arson.
Dashlands is followed by Toxic Factory.
Levels
Payload is the first level of Dashlands and the first level of Geometry Dash World. It introduces the cube form in one sequence involving blocks and spikes. Normal mode completion rewards: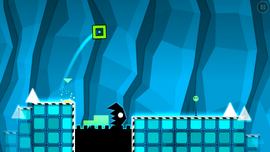 Beast Mode is the second level of Dashlands and the second level of Geometry Dash World. It consists of one cube sequence, introducing the yellow jump pad. Normal mode completion rewards: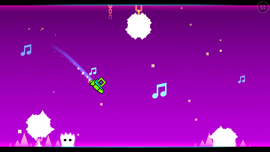 Machina is the third level of Dashlands and the third level of Geometry Dash World. It consists of one cube sequence, introducing the yellow jump ring, and introduces the ship form in one sequence at 63%. Normal mode completion rewards:
Years is the fourth level of Dashlands and the fourth level in Geometry Dash World. It consists of one ship sequence, introducing moving objects. Normal mode completion rewards:
Frontlines is the fifth level of Dashlands and the fifth level of Geometry Dash World. It consists of one cube sequence, introducing the gravity portal. Normal mode completion rewards:
Gameplay