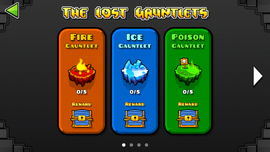 Gauntlets, formally titled The Lost Gauntlets, are a feature of Geometry Dash, introduced during Update 2.1 with content gradually being included post-release. They are accessed from the directive menu.
Description
A gauntlet is comprised of a selection of five user levels of similar yet increasing difficulty, which are required to be completed sequentially. To facilitate this, gauntlet levels are actually duplicates of the original levels that then have their progress tracked individually as part of the gauntlet sequences. The level menus are distinguished with a monotone background, and cannot be rated or be marked as a favourite.
There are a total of 15 gauntlets, some of which are initially locked or hidden. They offer the standard user level rewards, as well as diamonds for making progress on levels. Completing a gauntlet rewards more diamonds, and may further reward mana orbs, shards, icons and other special items.
Gauntlet details
Levels by difficulty
Easy: 0
Normal: 4
Hard: 23
Harder: 29
Insane: 7
Demon: 12
Total levels: 75
Rewards
Level mana orbs: 19,800
Total mana orbs: 20,300+ 1
Level diamonds: 636
Total diamonds: 916
Total stars: 486
Total user coins: 191 (all user coins are verified)
Total shards: Up to 15 (3 of each type)
Icon Kit rewards: 15
Footnotes
1 Up to 21,800 mana orbs when accounting for the prior collection of all shards
2 If 100 shards of this type have already been collected
Trivia
The format of gauntlets is shared by worlds in Geometry Dash World, having a selection of five levels played in sequence, although unlike worlds, gauntlets themselves do not need to be played in order. Gauntlets are also similar to map packs in being selections of user levels that offer rewards, although the number of levels, rewards, and order of play differ.
The first six gauntlets are based on the five shards - fire, ice, poison, shadow and lava shards, and bonus unlocks.
Mobile versions of the game show the access panels of the Time Gauntlet and those arranged after it lacking the unique background and text colours that are present in the PC version of the game, instead each sharing grey backgrounds with red text, with the exception of the Time Gauntlet, which has a dark red background.
The following levels were subject to rearrangement or removal from a new gauntlet shortly after release:

The Fire Gauntlet had all its levels rearranged. The original order of levels was the fifth, third, first, second then fourth levels, Magmatic Sanctuary, First Race, OuterSpace, Overture then Shock.
Skyward, initially ordered fifth in the Ice Gauntlet, was shifted to second due to its overestimated difficulty.
Blade, initially ordered fourth in the Chaos Gauntlet, was removed upon request by its creator and replaced with Drippy Dub, which was shifted to third position. Kappaclysm then advanced to fourth position.
Vulgarity, initially ordered third in the Time Gauntlet, was replaced with Timeless due to popular demand.
Dangerous Spikes, initially ordered first in the Spike Gauntlet, was removed due to its overestimated difficulty and replaced with Victim.

The following levels were included in gauntlets despite not aligning with the criteria of their respective contest:

SLAM from the Monster Gauntlet is rated 7 stars, when the criteria to be eligible was for levels to be rated 8 or 9 stars. The level was added despite this as it was noted during judging that the creator had originally requested 8 stars.
Nowise and Darkness Keeper from the Doom Gauntlet are each rated Hard Demon, when the criteria to be eligible was for levels to be rated Easy Demon or Medium Demon. The levels' difficulties were changed accordingly to Medium Demon, although this was later reverted.

The following levels have notable traits:

Fire Aura from the Lava Gauntlet, and Scarlet Surge and Kappaclysm from the Chaos Gauntlet are the only levels which were initially released prior to Update 2.0 to be included in gauntlets.
Scarlet Surge from the Chaos Gauntlet, SLAM from the Monster Gauntlet, and The Behemoth from the Death Gauntlet are the only levels of XL length. The latter has the longest length of any user level in both gauntlets and map packs, requiring 175 seconds to complete.
Kappaclysm from the Chaos Gauntlet is the only level to be in both a gauntlet and a map pack.

The following levels share the same music with each other:

Infernal Arena and ichor from the Lava Gauntlet each use Ichor.
Shrill Hallway from the Doom Gauntlet and Pureland from the Spike Gauntlet each use -Haunted woods-.
Magmatic Sanctuary from the Fire Gauntlet and HellGate Menace from the Monster Gauntlet each use Sheol.

The music for Crazy Ball from the Bonus Gauntlet is titled Partyt Är Igång!. In-game it is displayed 'Partyt r Igng!' since accented characters are not supported by the font.
Gallery