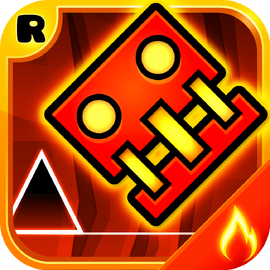 Geometry Dash Meltdown is a free ad-supported expansion app of Geometry Dash developed and published by RobTop Games and released on December 19, 2015 for iOS and Android. It features 3 exclusive levels, with limited achievements, icons and collectibles. The ability to transfer certain unlockable data over to the full version through user accounts is also available.

Levels
Gallery and trailers
Trivia
November 13, 2015: Robert Topala entered a Twitch user's chat and begun a Q&A. He mentioned that a 'secret project' will be released before Update 2.1 and hopes that both will arrive before Christmas.
November 20, 2015: Topala posted a sneak peek of the 'secret project', revealing it to be Geometry Dash Meltdown.
November 23, 2015: Topala stated in a Twitch user's chat that "Its a new free app with some new levels. And the levels are pretty easy (pretty much like level 1-5 in normal)."
December 1, 2015: Topala stated in a Twitch user's chat that a trailer will be coming soon and that the game will be released first on mobile platforms, iOS and Android. He also mentioned that exclusive icons unlocked will be transferable to the full version, although after the release of Update 2.1.
December 11, 2015: Topala stated on TouchArcade that the app will be released before Christmas, while Update 2.1 will be delayed until January 2016.
December 16, 2015: Topala stated in a Twitch user's chat that the app is already done and is awaiting approval from Apple. He also released a new teaser trailer previewing Viking Arena, followed by the release date, being December 19, 2015.
December 19, 2015: The app is released and includes the first three levels.
March 4, 2016: Topala stated in a Twitch user's chat that a new update is planned to be released after Update 2.1 and will include a new level.
March 20, 2016: Topala says a new level will be added before Update 2.1, but will include associated features (such as the spider game mode) because of the long wait of the full version update. However, Update 2.1 was released before an update arrived for Meltdown.
August 16th 2017: RobTop comments on the daily level "Meltdown will be updated I just havent had time to make a level for it. :)".
November 19th 2017: Meltdown receives an iOS update with the description "This update is signed with Apple's latest signing certificate. No new features are included." The update is not recorded in its version history.
Full version comparison
Update log (iOS)
The following table contains the official update information provided by the iOS App Store, only omitting secondary information such as support notices.
Version
Date
Description
1.0
19 December 2015
-
1.01
26 December 2017

iPhone X support
Bugfixes and tweaks

2.21.3
26 June 2022

New Rewards!
Small stuff!
Bugfixes and tweaks!