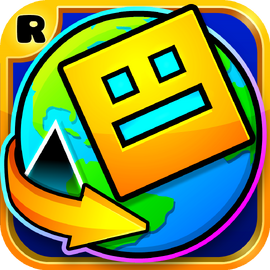 Geometry Dash World is a free ad-supported expansion app of Geometry Dash developed and published by RobTop Games and released on December 21, 2016 for iOS and on December 22, 2016 for Android. It features 10 exclusive short levels which must be played in sequence, split into 2 worlds containing 5 levels each. The game is a downsized build of the full version of Geometry Dash and was released just prior to Update 2.1 (allowing much new content to be previewed at the time). Hence, other current content including achievements, icons, collectibles, shops and vaults are available although limited. The ability to transfer certain unlockable data over to the full version through user accounts is also available. In addition, certain user levels can be played, either the daily level or featured levels once the main levels have been completed.

Levels
Gallery and trailers
Full version comparison
Update log (iOS)
The following table contains the official update information provided in the iOS App Store, only omitting secondary information such as support notices.
Version
Date
Description
1.0
1 December 2016
-
1.01
22 December 2017

iPhone X support
Lots of new things to find!
Bugfixes and tweaks