Levels of the Week are features in Geometry Dash and Geometry Dash World, being introduced in Update 2.1. They are accessed from the directive menu.
Daily Level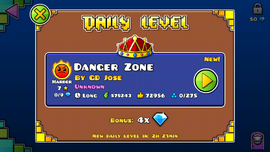 The daily levels are user-created levels that the player may complete and earn a varying amount of Diamonds depending on the level difficulty. Upon completion, the player will gain a certain amount of Diamonds as a bonus as well as the Diamonds gained from simply completing the level. Upon collecting the bonus Diamonds, the blue box containing the level will disappear, and a different level will appear in the box the next day; unless 24 hours has passed since the user level was loaded, in which case another daily level will appear. If 24 hours have passed since the last loaded daily level, you have the option to skip beating it to get to the next one. This is shown by a red X in the top left corner of the level on the Daily screen. The player can only have two daily levels in their list. Daily Levels can be accessed by going to the Create menu and clicking a button on the right labeled as "Daily", which has a crown depicted on the button. The full list of daily levels can be found here.
Weekly Demon
Weekly Demon levels are featured user levels that can be accessed from the directive menu and progressively reward diamonds in addition to standard rewards. Their difficulties may span from Easy Demon to Hard Demon. Completing the level will reward 500 orbs, 20 diamonds, 1 key and 2 Shards of Power. The full list of weekly demons can be found here.
Trivia
Bloodlust and Bloodbath are the only weekly demons to be Extreme Demons, due to being temporary April Fools jokes in 2018 and 2019 respectively.

Nine Circles is currently the only daily level to be a demon difficulty level, due to being an April Fools joke in 2020.

Killgore is the first weekly demon to have changing difficulty. Its original difficulty of Medium Demon was suddenly changed to Hard Demon due to underestimated difficulty.

Pilot by Jayuff is another such weekly demon that has changed difficulty. It was originally a Medium Demon but was suddenly changed to Easy Demon due to overestimated difficulty.
Bionic Button is yet another weekly demon that changed difficulty. It was originally a Medium Demon, but then it was changed to an Easy Demon for a short time before it was reverted back to Medium Demon.

Any progress, including completion, on both Daily Levels and Weekly Demons will only appear and give rewards as a Daily or a Weekly. Progress on either will not be updated or completed if one were to play the level outside of the Daily or Weekly tab.
Community content is available under
CC-BY-SA
unless otherwise noted.