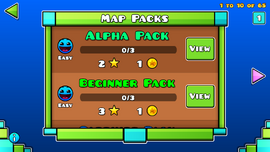 Map Packs are a feature of Geometry Dash. Introduced in Update 1.6, a selection of user levels are sorted into map packs, each consisting of three levels of similar difficulty and stars. Completing a full pack will reward collectibles, from 2 to 10 stars and 1 secret coin; 2 secret coins are rewarded if the pack is of Demon difficulty. In addition, each included level will reward more stars and sometimes user coins. Achievements can also be unlocked by completing map packs.
Update history
Update 1.6 included 25 map packs: Beginner, Normal, Remix 1, Stereo, Hard, Morph, Challenge, Remix 2, Dash, Expert, Remix 3, Fusion, Turbo 1, Turbo 2, Chaos and Remix 4 packs, and Demon Packs 1 to 9.
Update 1.7 included 14 map packs: Phoenix, Power, Elemental, Fast, Bionic, Shatter, Twisted, Mortal and Magma packs, and Demon Packs 10 to 14.
Update 1.8 (1.81) included 15 map packs: Sapphire, UFO, Amethyst, Ruby, Shiny, Color, Warp, Cyclone, Colossus, Diamond, Paradox and Funky packs, and Demon Packs 15, 16 and 17.
Update 1.9 did not include any map packs.
Update 2.0 (2.01) included 11 map packs: Alpha, Force, Cookie, Electro, Laser, Glow, Spirit, Ion, Blade, Sparkle and Happy packs.
Update 2.1 did not include any map packs.
Trivia
The Beginner Pack, Normal Pack and Stereo Pack are the only map packs that do not contain a level of the same difficulty as their own rating.
Originally, levels in map packs held difficulties of Hard, Harder or Demon. This was updated during Update 1.8 so that difficulties reflected levels' star ratings.
The Magma Pack originally held a difficulty of Demon despite only having levels rated as Insane. Its difficulty was changed to Insane during Update 1.8.
Kappaclysm is the only level to be featured in both a map pack and a gauntlet.
12 map packs contain one or more levels with custom music.
IIINePtunEIII has created the most levels to be included in map packs with 19 levels, followed by TheRealDarnoc with 14 levels and FunnyGame with 10 levels.
Map pack data
Summary

| Difficulty | Packs | Levels | Secret coins | Pack stars | Level stars | Total stars | User coins (verified) |
| --- | --- | --- | --- | --- | --- | --- | --- |
| Easy | 2 | 6 | 2 | 5 | 16 | 21 | 9 |
| Normal | 6 | 18 | 6 | 21 | 63 | 84 | 6 |
| Hard | 15 | 45 | 15 | 68 | 206 | 274 | 39 |
| Harder | 10 | 30 | 10 | 63 | 190 | 253 | 0 |
| Insane | 14 | 42 | 14 | 116 | 350 | 466 | 0 |
| Demon | 18 | 54 | 36 | 180 | 540 | 720 | 6 |
| Total | 65 | 195 | 83 | 453 | 1,365 | 1,818 | 60 |