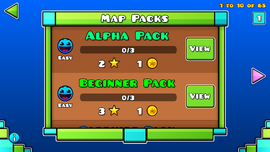 Map Packs are a feature of Geometry Dash, introduced in Update 1.6. They are accessed from the creator menu.
Description
A selection of user levels are sorted into map packs, each consisting of three levels of similar difficulty and stars. They offer the standard level rewards for making progress on levels. Additionally, completing a full pack rewards from 2 to 10 stars and 1 secret coin; 2 secret coins are rewarded if the pack is of Demon difficulty. Achievements can also be unlocked by completing map packs.
Update history
Update 1.6 included 25 map packs: Beginner, Normal, Remix 1, Stereo, Hard, Morph, Challenge, Remix 2, Dash, Expert, Remix 3, Fusion, Turbo 1, Turbo 2, Chaos and Remix 4 packs, and Demon Packs 1 to 9.
Update 1.7 included 14 map packs: Phoenix, Power, Elemental, Fast, Bionic, Shatter, Twisted, Mortal and Magma packs, and Demon Packs 10 to 14.
Update 1.8 (1.81) included 15 map packs: Sapphire, UFO, Amethyst, Ruby, Shiny, Color, Warp, Cyclone, Colossus, Diamond, Paradox and Funky packs, and Demon Packs 15, 16 and 17.
Update 1.9 did not include any map packs.
Update 2.0 (2.01) included 11 map packs: Alpha, Force, Cookie, Electro, Laser, Glow, Spirit, Ion, Blade, Sparkle and Happy packs.
Update 2.1 did not include any map packs.
Trivia
The Beginner Pack, Normal Pack and Stereo Pack are the only map packs that do not contain a level of the same difficulty as their own rating.
Originally, levels in map packs possessed difficulties of Hard, Harder or Demon. This was updated during Update 1.8 so that difficulties reflected levels' star ratings.
The Magma Pack originally possessed a difficulty of Demon despite only having levels rated as Insane. Its difficulty was changed to Insane during Update 1.8.
Haunting from the Blade Pack had its verified user coins removed.
Kappaclysm from the Blade Pack is the only level to be featured in both a map pack and a gauntlet.
Creators to have created the most levels to be included in map packs include IIINePtunEIII with 19 levels, TheRealDarnoc with 14 levels, and ZenthicAlpha with 10 levels.
Map packs which comprise entirely of levels by a single creator include Remix Packs 1 to 4 with levels from IIINePtunEIII, UFO Pack with levels from ZelLink, Fast Pack with levels from croshz, and Expert Pack with levels from IAmCody.
12 map packs contain one or more levels with custom music, none of which are from map packs of Insane or Demon difficulty.
The music of main levels released after Update 1.8 is not featured in any map pack level.
Map pack details
Summary

| Difficulty | Packs | Levels | Secret coins | Pack stars | Level stars | Total stars | Mana orbs | User coins (verified) |
| --- | --- | --- | --- | --- | --- | --- | --- | --- |
| Easy | 2 | 6 | 2 | 5 | 16 | 21 | 425 | 9 |
| Normal | 6 | 18 | 6 | 21 | 63 | 84 | 1,800 | 6 |
| Hard | 15 | 45 | 15 | 68 | 206 | 274 | 6,925 | 39 |
| Harder | 10 | 30 | 10 | 63 | 190 | 253 | 7,325 | 3 |
| Insane | 14 | 42 | 14 | 116 | 350 | 466 | 15,675 | 0 |
| Demon | 18 | 54 | 36 | 180 | 540 | 720 | 27,000 | 6 |
| Total | 65 | 195 | 83 | 453 | 1,365 | 1,818 | 59,150 | 63 |
Map pack
Pack stars
Level
Creator
Mana orbs
Level stars
User coins
Music

UFO Pack
4
UFO Madness
ZelLink
75
3
2, unverified
Stereo Madness
UFO on Track
ZelLink
125
4
2, unverified
Back On Track
UFOgeist
ZelLink
125
4
2, unverified
Polargeist

Amethyst Pack
4
Dry Out RM
ZenthicAlpha
125
4
3, unverified
Dry Out
Hexagon HyperDrive
Mitchell
125
4
-
Hexagon Force
simple cloud
Creator Cloud
125
4
-
Polargeist

Ruby Pack
4
GoldenClub
Jeyzor
125
4
-
Time Machine
Dynamic On Track
crepuscole
175
5
-
Back On Track
dorabaebasic5
DORABAE
125
4
-
Hexagon Force

Electro Pack
4
ElectroWorld
ASonicMen
125
4
3, verified
Perseverance [NG Cut]
Globe Navigation
Dhafin
125
4
3, verified
Circumnavigating the Glob
Lunar Ocean
Gelt
125
4
-
Solar Rain

Laser Pack
4
Crystal Blossoms
Florent
125
4
3, verified
Cherry Blossoms
P0RTAL
Minesap
125
4
3, verified
Stay Inside Me
Gabber Fly
JerkRat
125
4
3, verified
-FlyBoy&GabberGirl-

Glow Pack
4
Ruinest Zone
Volkmire289
125
4
-
Insomnia Dreams
Captain Jonne
Glittershroom
125
4
-
Captain Cool
SoulDust
DualTroniX
125
4
3, verified
Soulwind

Spirit Pack
4
Edification
Roli GD
125
4
3, verified
Golden Haze (Prev)
Enchanted
Spu7Nix
125
4
3, verified
Allure
Sunwalker
JerkRat
125
4
3, verified
-Sunwalker-

Hard Pack
5
geometry level
5duck ^
175
5
-
Electrodynamix
1
IAmCody ^
175
5
-
Polargeist
Partition Madness
Partition
125
4
3, unverified
Stereo Madness

Morph Pack
5
stage of madness
nurong3
175
5
-
Stereo Madness
Stage Mix
iDontExist ^
175
5
-
Base After Base
polargeist reverse
RealKamijo
175
5
-
Polargeist

Phoenix Pack
5
Polargeist X
SpacePark ^
175
5
-
Polargeist
Standard Madness
IIINePtunEIII
175
5
-
Stereo Madness
Stereo Electro v3
G-E ^
175
5
-
Electrodynamix

Power Pack
5
Iceland
ZenthicAlpha
175
5
-
Jumper
Stage Mix
Nakatoshi ^
175
5
-
Theory of Everything
Polargeist v2
Sumsar
225
6
-
Polargeist

Shiny Pack
5
stereo dynamicness
crepuscole
175
5
-
Stereo Madness
Glitter Jumper
Glittershroom
175
5
-
Jumper
Time is Eco
Gelt
225
6
-
Time Machine

Ion Pack
5
Afterglow
T3chno
175
5
3, verified
Afterglow (ft Roy)
Dynasty
ViPriN
175
5
-
Dynasty (Preview)
The Prism
ASonicMen
175
5
-
Chaoz Fantasy

Blade Pack
5
Kappaclysm
Glittershroom
225
6
-
At the Speed of Light
Soul Refraction
ZenthicAlpha
175
5
3, unverified
Soulwind
Haunting
haoN
175
5
-
Haunted

Sparkle Pack
5
Galaxium
ViPriN
175
5
3, verified
Level Three
Proton
DesTicY
175
5
3, verified
Glittering Shores
Galaxy Purple
ZenthiMegax
175
5
3, verified
Level Two
Footnotes
^ Username of account that has since been deleted