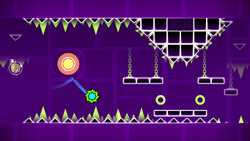 Update 1.2 was the second update to Geometry Dash, released on 14 October 2013 for Android and 21 October 2013 for iOS. It introduced Cycles, two new icons and a new form, the ball.
Introductions
New level, Cycles!
An all-new game mechanic, Ball!
2 new icons!
New achievements and rewards!
Geometry Dash Lite introductions
On 21 October 2013, Geometry Dash Lite was updated to 1.2 with the following:
Trivia
In the patch notes of Geometry Dash Lite, Update 1.2 is mistakenly also called Update 1.13.