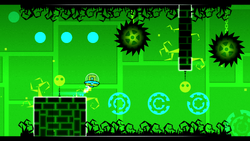 Update 1.5 was the fifth update to Geometry Dash released on 30 January 2014. It introduced Theory of Everything, the ability for users to rate custom levels as a demon, a new colour, four new cubes, three new ships, and a new form, UFO.
Introductions
New level "Theory of Everything"!
New game mode!
New unlockable ships and icons!
New level details, effects, and more!
Vote on stars and demon difficulty!
Copy/paste in the editor!
Lots and lots of improvements!
Bug fixes and tweaks.
v1.51
Bug fix where saving large maps would make the app crash.
Geometry Dash Lite introductions
On 30th January 2014, Geometry Dash Lite was updated to 1.5 with the following:
New Achievements and rewards!
Updated ship art.
Bug fixes and tweaks.
Level preview
Gallery
Community content is available under
CC-BY-SA
unless otherwise noted.