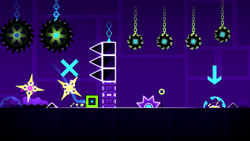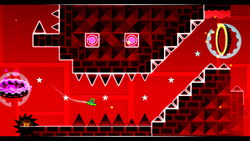 Update 1.6 was the sixth major update to Geometry Dash released on 25 March 2014. It introduced Electroman Adventures, Clubstep, three secret coins to all levels, map packs, two new colours, four new cubes, two new ships, four new balls, and four new UFOs.
Introductions
New level "Electroman Adventures"!
New Demon level "Clubstep"!
Secret coins to collect on ALL levels!
Destructible blocks!
Invisible mode blocks!
Map packs!
New levels!
The first epic colour, shadow black!
New colours, icons, ships, UFOs, and balls!
Tweaks, bug fixes and more!
Levels
1.61
Fixed a bug on devices running iOS 5.
Bug fixes and tweaks.
Geometry Dash Lite introductions
On 21st March 2014, Geometry Dash Lite was updated to 1.6 with the following:
New level "Base After Base"!
Record and share replays!
New Achievements and rewards!
Bug fixes and tweaks.
1.61
Fixed a bug on devices running iOS 5.
Bug fixes and tweaks.
Trivia
The Electroman Adventures sneak peek[1] did not feature the destructible blocks that were in the finished version, and one of the columns before the ship section was slightly modified.
Electroman Adventures had a Harder difficulty before Update 1.7, making it the only main level to have its difficulty raised, and the third level with a Harder difficulty in Update 1.6.
Secret coins in pre-1.6 levels either modified the level itself showing features that didn't exist in past updates or were placed remotely in the level in already possible to reach locations.
This is the first update that introduced two levels, the second being 1.9, and the third being 2.0.
On June 16, 2017, Viprin tweeted some images of early concept art for Geometry Dash.[2] The second image was made during 1.6's development. More sawblades were originally planned for the update, in addition to a skull-like structure possibly intended for Clubstep.
Sneak peek
Gallery
References