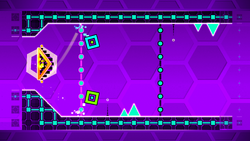 Update 1.8 was the eighth update to Geometry Dash. It was released on 7th August 2014. It introduced Hexagon Force, new editor features, dual mode, tappable mainscreen icons, a new colour, four new cubes, two new ships, one new ball, and two new UFOs.
Introductions
New level "Hexagon Force"!
New dual character game mode.
New slope ground objects.
Ability to create two player levels (playing the same device).
Lots of new art and effects.
New Achievements to complete.
New icons, ships, balls and UFOs.
New colours.
Performance improvements.
Huge changes in the editor. Play test your levels in-editor, free move objects, flip and rotate groups + more.
Bug fixes and tweaks.
Geometry Dash Lite introductions
On 12th August 2014, Geometry Dash Lite was updated to 1.8 with the following:
New level "Jumper"!
New achievements and rewards!
Bug fixes and tweaks.
Trivia
The sneak-peek left out and added much stuff from the final version of Hexagon Force.
In the first image, there is a slope on the left that was slightly modified before it was added to the game. In the game, it no longer has the vertical line splitting it into two. This vertical line, however, is still seen in the invisible variant of the slope.
On June 16, 2017, Viprin tweeted some images of early concept art for Geometry Dash.[1] The third picture shows a hexagon-styled gear sawblade, which was early concept art for 1.8.
This update has a small tweak to ball physics.
The sneak peek for this update doesn't include the first secret coin, which is located in the first ball sequence.
Sneak peek
Gallery
References