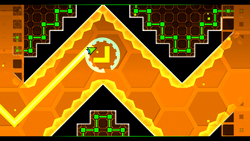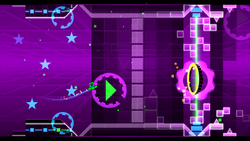 Update 1.9 was the ninth major update to Geometry Dash. It was released on 9th November 2014. It introduced two new levels, Blast Processing and Theory of Everything 2; a new user account system to save progress, the ability to select Custom Songs from Newgrounds for User Levels, four new colors, four cubes, two ships, two balls, two UFOs, and a new form, the wave. It also decreased the difficulty ratings of the first nine levels, excluding Stereo Madness.
Introductions
New level "Blast Processing"
New Demon level "Theory of Everything 2"
New "Wave" game mode
New music system. Build and share levels using custom music from Newgrounds.com
Backup system. Store and sync your progress between devices and platforms
User account system
New achievements, colors and icons
Lots of new details and level objects
Customize the color of objects in the level editor (including 4 custom color channels)
Color coding in [the] editor to make different objects more clear
New search options
Improved server performance for downloading levels
Copy/paste support in editor
Level editor object limit increased to 15,000
Lots of bugfixes and improvements
+ More!
Update 1.91
Update 1.911
Update 1.921
New performance option that can reduce lag on some devices. Go to "options/smooth fix" to enable.
Added group features to level editor
Max objects increased to 20,000
Bugfixes and tweaks
Update 1.93
Geometry Dash Lite introductions
On 5 February 2015, Geometry Dash Lite was updated to 1.921 with the following:
New level "Time Machine"!
New achievements!
Account system
Bugfixes and tweaks
Level difficulty changes
Trivia
Blast Processing's trailer had some decoration changes from the final version.
This was the only era to have the object count raised in a minor update.
This update did not include any new map packs, making it the first update to do so after Update 1.6 added the first map packs.
Update 1.9 is one of the only two updates to change the difficulty ratings of levels, the other being Update 1.7.
The wave form was previously known as the 'dart'. RobTop changed the wave's name to 'dart' again in Update 2.0, but changed it back to 'wave' due to the complaints issued by the community.
The jump height of the cube is a few pixels higher than previous updates.
The "Blast Processing!" icon was altered slightly after "1.90 Sneak Peek 1".
3 August, 2014: Prior to the release of Update 1.8, Topala said in a conversation at Touch Arcade Forums, "I have a lot of ideas for Update 1.9 that could be huge for the game, but more on that after I release 1.8......... muahaha!"
13 August, 2014: Topala posts his first Update 1.9 preview image, which shows five icons wearing different-colored headphones. This makes way for much anticipation throughout the Geometry Dash community and results in theories involving soundtrack changes within a level and new game modes.
26 August, 2014: Topala publishes another image depicting 3-D blocks, arousing much excitement among Geometry Dash players.
28 August, 2014: Topala continues with the idea of 3-D blocks, posting a picture on Facebook about what could be built using them.
6 September, 2014: Another image is posted through Topala's social media accounts, featuring several different level components that could be used in future Geometry Dash levels. This includes two new icons, gear-like obstacles, and various different unknown types of blocks. The most prominent feature is a new thick blue portal that would likely result in the introduction of a new game mode.
14 September, 2014: Topala posts another image to social media, hinting the soundtracks for the upcoming levels. It has a blast and processor (which was later confirmed to be Blast Processing by Waterflame) and a book, an infinity symbol, and the number 2 (which in truth hinted to Theory of Everything 2 by both DJ Nate and F-777). The latter was correctly theorized to be a demon level, following similar lines to Update 1.6.
21 September, 2014: Another image is posted through Facebook and Twitter. It previews a new custom music feature that would allow players to include music from Newgrounds in their custom levels. The image includes ten icons with headphones at the bottom. It is the first picture to indicate that the update was a work in progress. Upon the release of the image, Topala says that a sneak peek video for the next levels would be coming soon.
28 September, 2014: Topala officially releases the first Update 1.9 sneak peek video, which shows the first 21 seconds of a beta version of Blast Processing. As seen in the video, the new blue portal changes the icon to an arrow-like object with physics similar to those seen in the mobile game, Wave Wave.
10 October, 2014: Topala releases another sneak peek video featuring the second level, Theory of Everything 2. In this video, a new background and a new design of ship is used. Topala is also playing the game on his PC, indicating that he may have been using the future Steam version.
18 October, 2014: Topala confirms that the update would be released soon after he had fixed a minor issues in the backup and music systems. He also says he is working on the Steam version, and hints on Update 2.0, stating that he will continue improving the user account system devised in 1.9.
4 November, 2014: Topala posts that the update is submitted for review and is waiting to be accepted.
9 November, 2014: Nearly three months after Update 1.9 was first mentioned, Topala confirms the release of 1.9 and states that it will be released on iOS and Android devices around the same time, and the Steam version would be released as soon as possible. It is eventually released on the Windows Phone, App Store, and several other mobile devices.
15 November, 2014: Update 1.9 is released on Amazon devices.
20 November, 2014: Update 1.91 is released on all devices. This is a minor update that fixes a few bugs.
18 January, 2015: Update 1.92 is released on the Play Store. This includes some new options and fixes a few custom soundtrack bugs.
29 January, 2015: Update 1.92 is released on the App Store. This includes some new options and fixes a few custom soundtrack bugs.
12 February, 2015: Update 1.93 is released on the Play Store. This is a minor update that includes some bugfixes.
16 February, 2015: Update 1.93 is released on the App Store.
Sneak peeks
Gallery