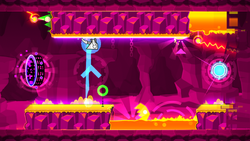 Update 2.1 is the eleventh official update to Geometry Dash. It was released on 16 January 2017 for Steam, and on 18 January for iOS, Android and Amazon. This update introduced one new main level, Fingerdash, the spider form, new jump rings, dash rings, custom gameplay rings, red jump pad, a red 4x speed portal, 2 new shops, 2 new vaults (Vault of Secrets and Chamber of Time), daily rewards, shards (fire, ice, poison, shadow and lava), lots of new editor features, mana orbs, diamonds, vault keys, five demon difficulties, the epic ranking, Gauntlets, Hall of Fame, quests, daily levels, death effects, more commenting features, options, optimizations, many new icons, colors, and many more features and secrets.
Introductions
New level "Fingerdash!"
Spider gamemode!
44 new icons!
10 new ships!
11 new balls!
10 new UFOs!
10 new waves!
11 new robots!
Lots of new gameplay objects!
Many new triggers!
Collect new rewards!
Quests!
Daily levels!
Lots and lots of new art
Lots of editor improvements
Lots of bug fixes
More secrets...
Two vaults added!
New icons
Unlisted option for user levels (bugged)
Twitch and Twitter links for your account
Epic ranking
Hall of fame
More options
Death Effects
The Lost Gauntlets
Diamonds and Mana Orbs
Demon Sub-Ratings
In-level low detail mode
And more...
2.11
Description
Update 2.11 is here!
This update will function like a smaller "pre-update" before 2.2. Lots of fun stuff planned :)
iPhone X support!
New icons and effects!
New community shop!
Weekly Demon challenge!
Folders and level sorting!
New demon chests!
Level leaderboards!
Crystal Gauntlet!
Doom Gauntlet!
Spike Gauntlet!
Random other fun stuff.
Lots of bugfixes and tweaks
There was an item duplication bug in version 2.1 that gave users extra rewards. This has been fixed in 2.11 and those rewards have been removed. So if you lose shards/diamonds etc after loading 2.11 it's because they were bugged. Sorry :/
Fixed unlisted levels not showing up in the "My levels tab"
/RubRub
Features
Community Icons, as well as a community shop
New icons and death effects
Folders and level sorting
Level leaderboards
Treasure room chests that cost 5 keys
Improved commenting system for user-made levels
Weekly demon feature
Community-made icons for sale in secret shop/normal shop
Group items to act as one in level editor
Minor changes
Moderator icons next to Moderators' names
You can now "favorite" levels
View others' comments from their profile
Bugs
A Parental Control feature, known as "Only Allow Featured Levels" is bugged where instead of disabling search, it disables the map packs button.
Geometry Dash Lite introductions
On 5 January 2016, Geometry Dash Lite was updated to 2.1 with the following:
On 21 December 2016, Geometry Dash Lite was updated to 2.11 with the following:
New Level "Clutterfunk"!
New Achievements and rewards!
Bugfixes and tweaks.
On 22 November 2017, Geometry Dash Lite was updated to 2.12 with the following:
iPhone X support!
New level "Theory of Everything"!
New achievements and unlocks!
Bugfixes and tweaks!
New UFO gamemode!
Trivia
In 2.0, the "Coming Soon" information displayed text reading "Just don't scroll too far, there is a darkness coming." In 2.1, the same text reads "The darkness lingers. Be careful who you trust..."

This likely relates to the "Invasion" and The Creature (possibly the Demon Guardian) that lingers in the basement of the Vault of Secrets.

The icons that are featured in the second sneak peek picture are only 2 of the many icons that can be unlocked in Geometry Dash Meltdown. This is related to an upcoming feature in which Meltdown icons can be synced to the full version with a player's account.
Update 2.1 has the second most sneak peeks out of any other update so far, as Update 2.2 has since surpassed 2.1 with at least 10 sneak peeks
Update 2.1 currently has the longest amount of time between two update teasers. The time between the second 2.1 WIP image (29th October, 2015) and the 2.1 song hint (2nd January, 2016) was over two months.

This might be due to the release of the "secret project (i.e. Geometry Dash Meltdown)" and Geometry Dash Meltdown being released between these two dates (19th December, 2015).

RobTop stated before 2.0 that he would focus on making future updates only take 1-2 months. However, Update 2.1 released over a year after Update 2.0 was released on the 26th August 2015, giving it the longest development time out of any other released update, and as of now, 2.2 has not released in the 4 years since 2.1.

The delay of 2.1 was likely due to the release of Geometry Dash Meltdown and Geometry Dash World in between the two.

Update 2.1 is the third consecutive update to feature a new game mode, with Update 1.9 introducing the wave and Update 2.0 introducing the robot.
Update 2.1 contains the most new gameplay elements (rings, pads and a new gamemode).
In Geometry Dash World, it was first discovered that the dash rings would have a different shape that was more arrow-like than in the sneak peek. The red dash ring would also be colored pink. This was applied to the actual update.
Both the "Geometry Dash Spider" and "Small lava test" videos on RobTopGames' YouTube channel are unlisted.
The lava blocks from the second and fourth WIP image are different than the lava blocks from the sneak peek. This could be because RobTop re-designed some art he was not satisfied with, as stated by him previously.
In the "Small lava test" video, the new icon (Uber Hacker) is a fanmade icon that was carried over from the Purpura Texture Pack.
2016 is the first year where no updates to Geometry Dash were released.
Update 2.1 has introduced the most vaults and rings out of any update.
The flame while using a Dash Orb originally used the texture for one of the fireballs. (The one the bat shoots out in the start of Fingerdash)
Similarly, the spider used to use the animation for normal teleportation portals.
Sneak peeks
Gallery
References