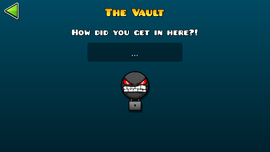 The Vault is a secret feature of Geometry Dash and Geometry Dash World, being introduced in Update 2.0. It is located through a padlock in the upper right corner of the Settings menu, requiring 10 user coins to gain access.
Description
The Vault contains a text field and an angry padlock button below it, referred to as the Guard, although its true name is Spooky. Pressing the button will return a response based on what has been entered into the text field. By entering specific phrases, Icon Kit rewards, secret coins and associated achievements can be unlocked.
Trivia
The song that plays in the Vault is Random Song 01 and was composed by Robert Topala under his Newgrounds alias RobTop. It is also used in the Treasure Room.
The face on the padlock resembles the Demon difficulty icon but differs in being grey, having red eyes and lacking horns. Its name, 'Spooky', is mentioned by a loading screen phrase as well as implied by certain Vault responses.
The 'blockbite' code can be found under the Help section of the Settings menu. Upon waiting a few seconds, the phrase will slowly appear in the lower right corner of the screen. After entering it into the Vault, it will not appear again.
Gallery
Community content is available under
CC-BY-SA
unless otherwise noted.