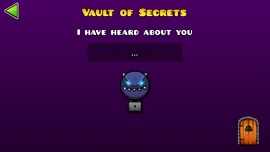 The Vault of Secrets is a secret feature of Geometry Dash and Geometry Dash World, being introduced in Update 2.1. It is located through a padlock in the upper right corner of the directive menu and requires 50 diamonds to gain access.
Description
The Vault of Secrets contains a text field and a mischievous padlock button below it, going by the title of "The Keymaster", although its actual name is 'Glubfub'. Pressing the button will cycle through a series of responses and clear any input in the text field. Entering certain phrases will unlock Icon Kit rewards and secret coins, as well as any related achievements. Hints in the form of green phrases are provided every so often to help guess the codes.
Trivia
Exiting from The Challenge will cause the main theme soundtrack to play instead of the Vault of Secrets theme.
When inputting Spooky's code to get the "Doomed us all!" achievement into Glubfub's cod3breaker puzzle, you get the output "81421418"
Gallery
Community content is available under
CC-BY-SA
unless otherwise noted.